IBEW 584 Member News
IBEW 584 Business Manager Message, June 2019
Here are some of the latest updates from Jeff Sims, Business Manager of IBEW 584.
IBEW 584 Christmas Party
Union families celebrated the season with food, friends, and fellowship at our annual Christmas party Saturday, Dec. 15.

Oklahoma Gubernatorial Candidate Drew Edmondson: Labor Day Message 2018
Drew Edmondson offered a rousing speech ahead of the Nov. 6 statewide elections. Click here to watch.
Oklahoma IBEW -- Labor Day 2018
Henryetta, Oklahoma is a UNION TOWN! Thanks to all the Okla. IBEW families who helped make this year's parade a success!

IBEW Members Offer Bright Future to Historic Oklahoma Park
The city of Henryetta, Okla., has become a favorite spot for organized labor in a right-to-work state because of its Labor Day Festivities, which are some of the largest in the state.
"We go down there every year and walk in their Labor Day Parade," said K.J. Payton, an organizer for Tulsa Local 584. "Anything we can do to help Henryetta, we want to be involved."
It's part of why IBEW locals in the state jumped at the chance to help renovate a historic pavilion and fishing pier there as part of a project sponsored by the Union Sportsmen's Alliance.
The pier and pavilion are in Nichols Park, which was built from 1938-1941 by the Civilian Conservation Corps – formed during the Great Depression to provide jobs for millions of unemployed men. It is listed on the National Register of Historic Places.
The dock and pavilion have been popular destinations ever since, but they had fallen into disrepair because securing enough public money for repairs wasn't easy in Henryetta, where the population is just 5,700. Historical records are unclear, but it's believed the federal government operated Nicholas Park before turning it over to the city decades ago.
"It's a beautiful park in a beautiful location," said Robert Stroede, conservation manager for the alliance. "But often times, when a smaller city gets something like that, it doesn't have the means to maintain it. This was something we really wanted to get done for the people in this area."
The IBEW and other Oklahoma trade unions pitched in on March 10, donating materials and labor. That morning, the sportsmen's alliance hosted a youth outreach fishing event, handing out 150 fishing rods courtesy of Purdue Fishing, Stroede said. Proceeds from the Oklahoma AFL-CIO's annual dinner also were used to fund the project.
Oklahoma City Local 1141 Business Manager Dewayne Wilcox said his local donated about $1,500 to the effort and about 10 members volunteered to work on it. More than 100 members of Oklahoma's trade unions took part overall.
"This added another 50 years to that pavilion," Wilcox said. "It would have lasted only a year or two in its current state. It's a historic pavilion and the roof was falling in on it. We completely restored it."
Republicans control all the statewide offices and have a supermajority in the both the Oklahoma House and Senate, giving labor little pull in governmental affairs. Projects like this are even more important in such an atmosphere, Payton said.
"We're constantly being attacked in Oklahoma from an anti-labor perspective," Payton said.
"Anytime we can show we're pro-Oklahoma, we're going to do it. It was a really fun project."
IBEW members who participated did so with enthusiasm.
"Kind of the general principle of a union is improving the quality of life for a group of individuals," said Joe Baker, a member of Tulsa Local 1002 who was among the volunteers.
"Being part of organized labor has allowed me to do that, to take care of my family, so it means a lot to me to come back and do some of these community-building projects."
Henryetta Mayor Jennifer Clason issued a proclamation calling for Union Day in the city, adding that Henryetta is proud to consider itself pro-union. Two state legislators – one a Democrat, the other a Republican – attended the dedication ceremony.
"It's amazing," Clason said. "It's absolutely more than we could ever ask for. We have multiple unions working together, united, trying to make our park the fabulous thing we think it is."
Click here to view videos of the project and the dedication ceremony.
The IBEW's commitment to Henryetta continues. Members in the construction branch are there working to repair the Anchor Glass Container plant, one of the city's main employers, after an explosion and fire severely damaged the facility on May 16. There were no injuries.
The plant employs about 600 workers, most of whom are represented by the Glass, Molders, Pottery, Plastics and Allied Workers International Union.
IBEW, UA Activism Removes Anti-Union Contractor from Tulsa Red Wing Shoes Store Project
Red Wing boots are a common sight on construction sites across North America, and the company frequently gives discounts to union members who purchase the company's footwear.
But during the bidding phase of Red Wing Shoes' new planned store in south Tulsa, IBEW Local 584 leaders noticed something out of step.
"The project was being bid, but the general contractor didn't want union labor anywhere near the job site," said IBEW 584 Membership Development Representative KJ Payton.
Payton had been scoping out potential job opportunities for IBEW signatory contractors on Jan. 15, when he was alerted of the Red Wing project.
The general contractor, Minnesota-based RCG Inc., had posted the following on BuildingConnected.com, an online service for construction firms and contractors: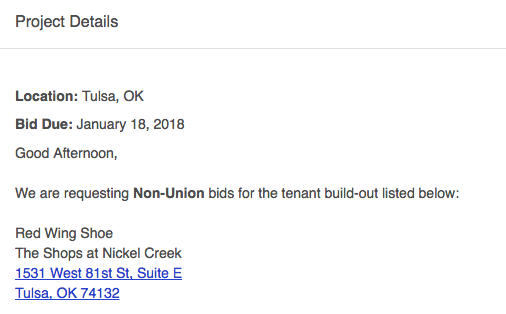 Discriminatory practices like this are nothing new, Payton said – but this one felt different.
"This was wrong," he said. "We advertise for Red Wing Boots in our newsletter, and lots of people in the trade wear them. I felt like we needed to do something about this."
Over the next few days, Payton conferred with IBEW 584 Business Manager Jeff Sims, Assistant Business Manager Blake Longworthy, and State Organizing Coordinator Trentice Hamm about what to do.
"After we'd discussed how to approach this, I called the company and asked who would be responsible for this project," Payton said. After he was connected to a store representative, "I told them that an out-of-state general contractor was using anti-union, discriminatory practices, and that Red Wing should look into it. I told them that we'd like to get this changed so our folks can bid on it."
A chance discussion with Mike Skinner, UA Plumbers and Pipefitters Local Union 430 business agent and dispatcher, also helped amplify the IBEW's concern.
"KJ had told me about, and we just didn't think it was right," said Skinner. The anti-union sentiment in the posting had also touched a nerve with the plumbers and pipefitters, who, Skinner said, would have been eager to bid on the work.
Skinner spoke with his fellow UA leaders and decided to make a push, too. He called the company and reiterated Payton's message.
"I said, 'I Just wanted to talk with you about this, about the way the union has been shut out,'" he said. "I told him that we as a union support the company, and we are just looking for things to be fair."
But while many complaints of discriminatory labor practices can often fall on deaf ears at large corporations, Red Wing agreed with the activists.
"[A]ppreciate you guys bringing this to my attention," wrote Ben Anderson, Red Wing's store construction and services manager, in a Jan. 26 email to Payton. "This is not how we do business, and [we] support the unions and union trades throughout the entire country. Our local shoe/boot factories are all operated by union laborers and trades, and [we] wouldn't want to do anything to damage our reputation with the local union trade industry."
Anderson also signaled that union shops can begin bidding work on the project.
"It feels like a good victory for the hall," Payton said. "There's no guarantee that one of our shops will get the job. We're not looking for a freebie. We just want a fair shot for our guys, too."
Red Wing now outsources much of their work beyond U.S. borders, but the company's "Heritage" line is still largely assembled in the U.S.
IBEW 584 Business Manager Jeff Sims said he appreciated Red Wing's swift attention to the matter.
"In business and on the job, our contractors and members go out every day, work hard, and play by the rules to stay successful," Sims said. "While it's never a good feeling when certain contractors discriminate against quality union labor, in this case, there was a positive ending. We thank Red Wing for doing the right thing and standing up for union families."
IBEW 584 represents about 440 journeymen and apprentice electricians who work for signatory contractors throughout Tulsa and eastern Oklahoma.
Want To See More?
Please visit our popular YouTube page to see even more reporting by clicking here.
FREE contest to win a custom kayak fishing package!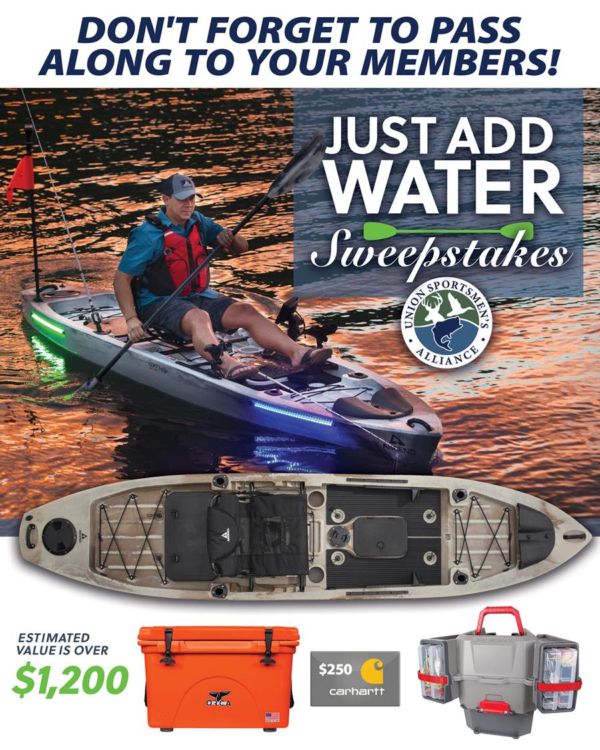 "FREE contest to win a custom kayak fishing package!" The Union Sportsmen's Alliance, which the IBEW is affiliated with, is hosting a new Summer giveaway! Expand your horizons with a fishing kayak loaded with the essentials, so all you have to do is -- add water. Enter now – no purchase necessary – for your chance to win this $1,200+ kayak fishing package that includes: - Ascend 128T Sit-On-Top Kayak - Plano Plam80700 V Crate Kayak Box - $250 Carhartt Gift Certificate - Orca Cooler Visit https://powderhook.com/contests/just-add-water to enter!

FREE contest to win a custom kayak fishing package! The Union Sportsmen's Alliance, which the IBEW is affiliated with, is hosting a new Summer giveaway! Expand your horizons with a fishing kayak loaded with the essentials, so all you have to do is -- add water.

Page Last Updated: Jun 08, 2020 (16:08:21)