IBEW 584 Member News
Check out what IBEW 584 members are up to on the job site, in the community, and more:
Local Union Brothers, Sisters, family and friends gathered at the JATC on Dec. 9 to share in the joy of the Christmas season. Check out our video of the event:
___
2017 Best Of The Best: Bartlesville
Best Electrician: Holtz Electric Inc.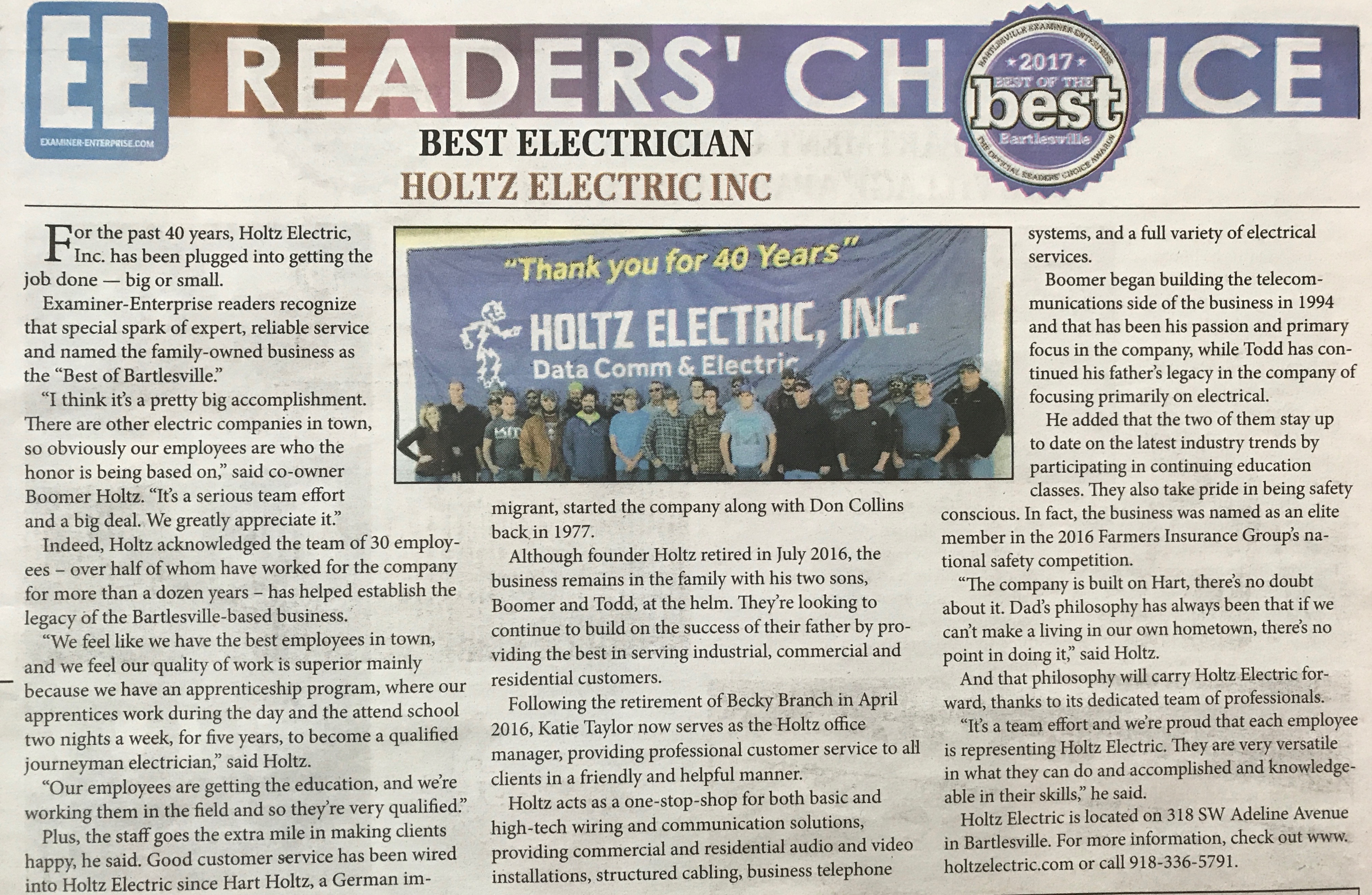 IBEW 584 Signatory Contractor Holtz Electric, Inc. was voted by Bartlesville Examiner-Enterprise readers as the best electrical shop in the city. Check out the paper's profile from the Sunday, Nov. 19. 2017 special edition:
For the past 49 years, Holtz Electric, Inc. has been plugged into getting the job done – big or small.
Examiner-Enterprise readers recognize that special spark of expert, reliable service and named the family-owned business as the "Best of Bartlesville."
"I think it's a pretty big accomplishment. There are other electric companies in town, so obviously our employees are who the honor is being placed on," said co-owner Boomer Holtz. "It's a serious team effort and a big deal. We greatly appreciate it."
Indeed, Holtz acknowledged the team of 30 employees – over half of whom have worked for the company for more than a dozen years – has helped establish the legacy of the Bartlesville-based business.
"We feel like we have the best employees in town, and we feel our quality of work is superior mainly because we have an apprenticeship program, where our apprentices work during the day and attend school two nights a week, for five years, to become a qualified journeyman electrician," said Holtz.
"Our employees are getting the education, and we're working them in the field and so they're very qualified."
Plus, the staff goes the extra mile in making clients happy, he said. Good customer service has been wired into Holtz Electric since Hart Holtz, a German immigrant, started the company along with Don Collins back in 1977.
Although founder Holtz retired in July 2016, the business remains in the family with his two sons, Boomer and Todd, at the helm. They're looking to continue to build on the success of their father by providing the best in serving industrial, commercial, and residential customers.
Following the retirement of Becky Branch in April 2016, Katie Taylor now serves as the Holtz office manager, providing professional customer service to all clients in a friendly and helpful manner.
Holtz acts as a one-stop-shop for both basic and high-tech wiring and communications solutions, providing commercial and residential audio and video installations, structured cabling, business telephone systems, and a full variety of electrical services.
Boomer began building the telecommunications side of the business in 1994, and that has been his passion and primary focus in the company, while Todd has continued his father's legacy in the company by focusing primarily on electrical.
He added that the two of them stay up to date on the latest industry trends by participating in continuing education classes. They also take pride in being safety conscious. In fact, the business was named as an elite member in the 2016 Farmers Insurance Group's national safety competition.
"The company is built on Hart, there's no doubt about that. Dad's philosophy has always been that if we can't make a living in our own hometown, there's no point in doing it," said Holtz.
And that philosophy will carry Holtz Electric forward, thanks to its dedicated team of professionals.
"It's a team effort, and we're proud that each employee is representing Holtz Electric. They are very versatile in what they can do and accomplished and knowledgeable in their skills," he said.
Holtz Electric is located on 318 SW Adeline Avenue in Bartlesville. For more information, check out www.holtzelectric.com or call 918-336-5971.

2018 USA Calendar Sale and Gun Giveaway Contest
When hunting season starts, you'll want to have it marked on your calendar and have your rifle ready to go.
Now, at your Local Union Hall, you'll have a good opportunity to get a head start on both.
We are selling 50 of the latest Union Sportsmen's Alliance wall calendars – and each purchase enters you in a contest to win a firearm from manufacturers like Remington, Bushmaster, Kel Tec and more.
Calendars are $40 each and can be purchased at the Local Union Hall. Once you purchase your calendar, register for the gun contest at www.unionsportsmen.org/calendar/usa. USA will give away two guns to Union members each week, and you must be able to pass a background check to be eligible to win.
Click here to visit the Union Sportsman's Alliance page where you can learn more about this year's contest and gun giveaway.
Questions? Call the Hall at (918) 592-2989. Good luck and happy shooting!
Union Families Help Restore Historic Henryetta Park
IBEW Brothers from across Oklahoma joined other Building Trades members to help renovate Henryetta's historic Nichols Park. Check out our video:
IBEW 584 Celebrates at Henryetta Labor Day Parade
IBEW Sisters, Brothers, family and friends joined in Henryetta's famous annual Labor Day parade on Sept. 4. The town's event is the oldest of its kind in eastern Oklahoma.
IBEW 584 Signs Libertas Electric, LLC.
We're on a winning streak: On Aug. 24, we signed another new contractor, Libertas Electric, LLC.
Owner Ken Cohenour – center – has been an IBEW member since 2006 and graduated from our apprenticeship program.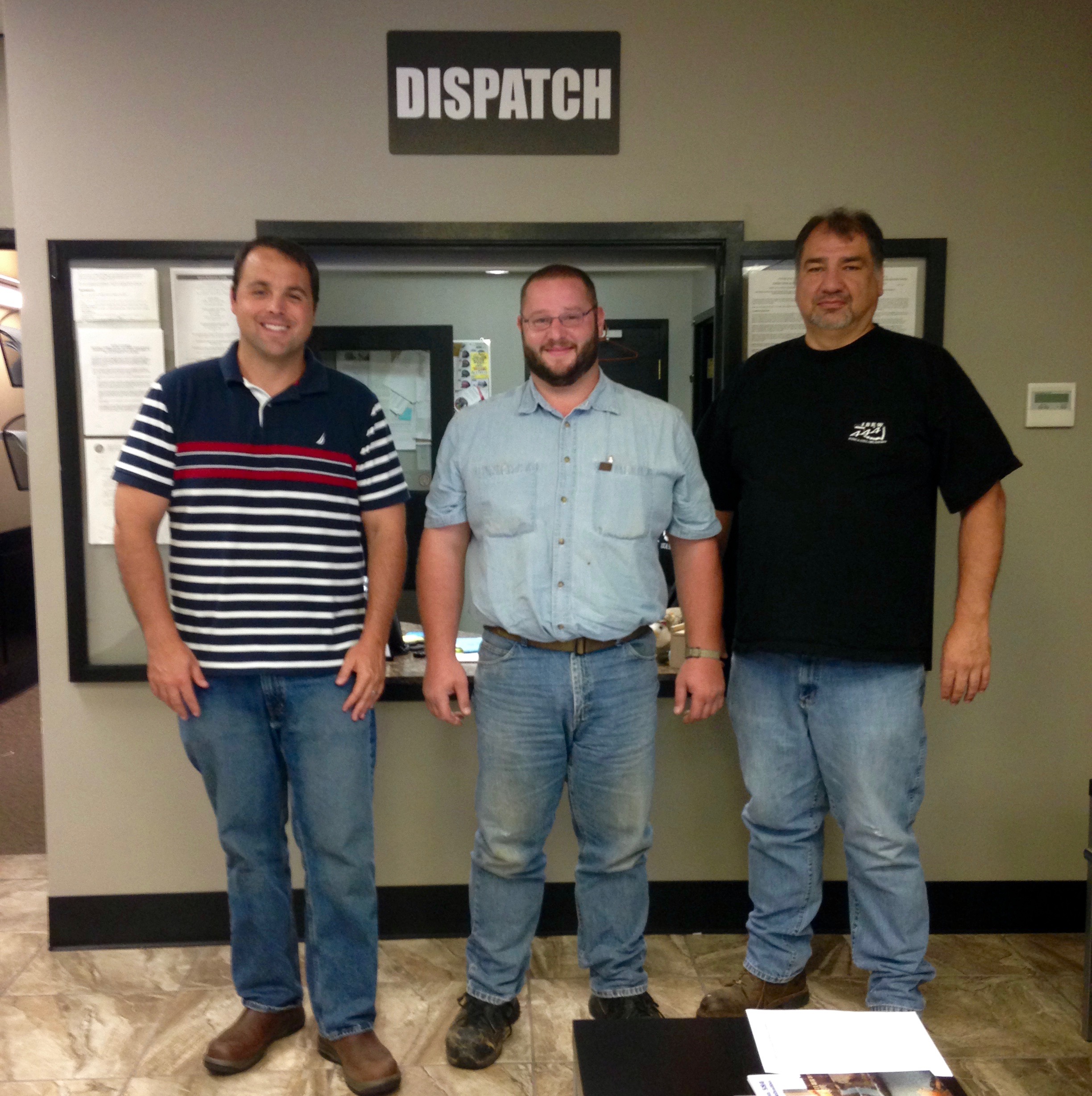 Dallas-based Morely Moss Signs Letter of Assent
Morely Moss, a Texas electrical contracting company, has signed with IBEW 584 and will be looking to use our union workforce on upcoming projects in this jurisdiction.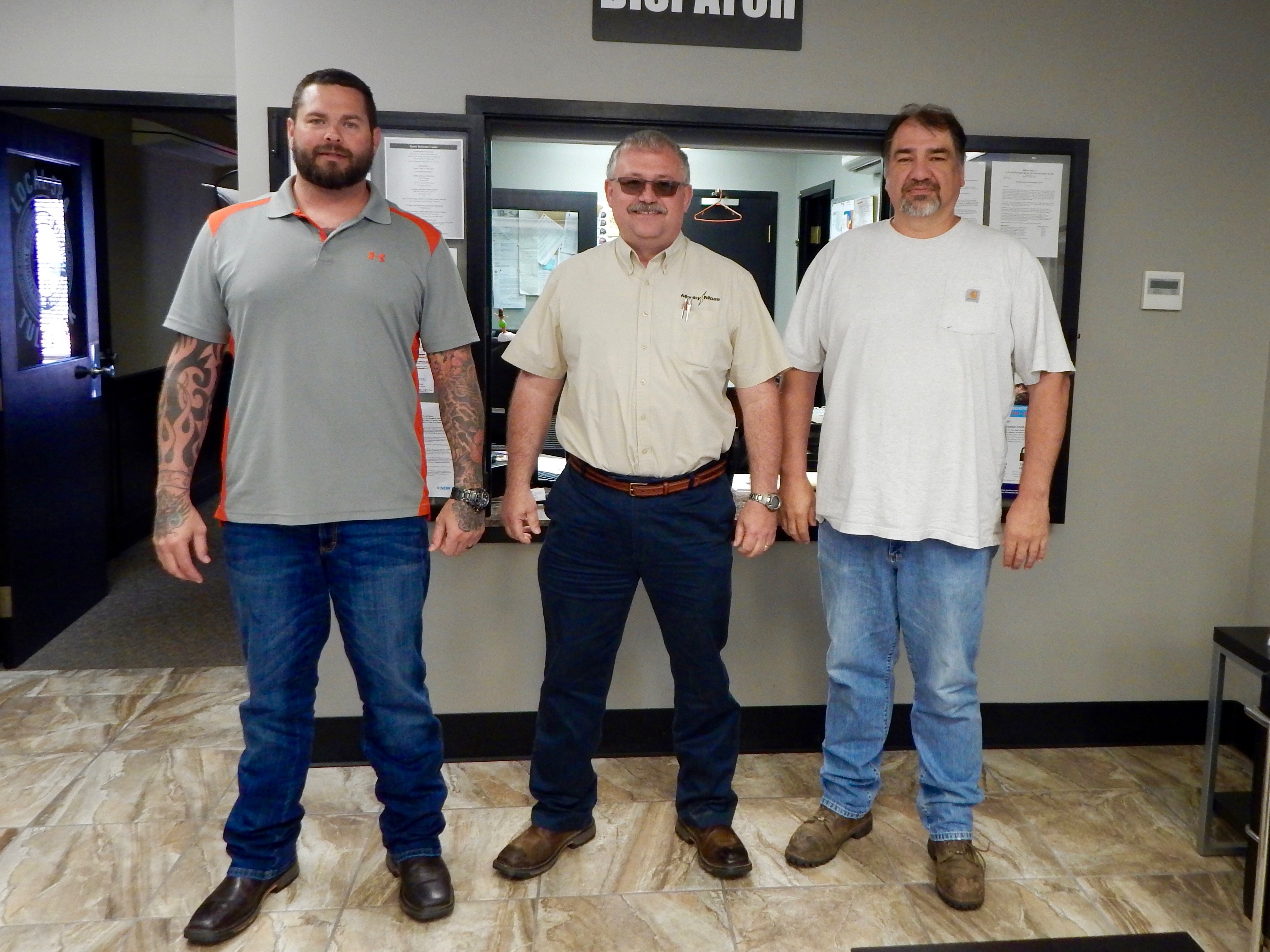 IBEW 584 Signs New Contractor
Brother Eric Wilkins, second from right, has been a Local 584 member since 1994 -- and today he signed on with us as a contractor.
Please give a warm welcome to our newest signatory contractor, Angler Electrical Services.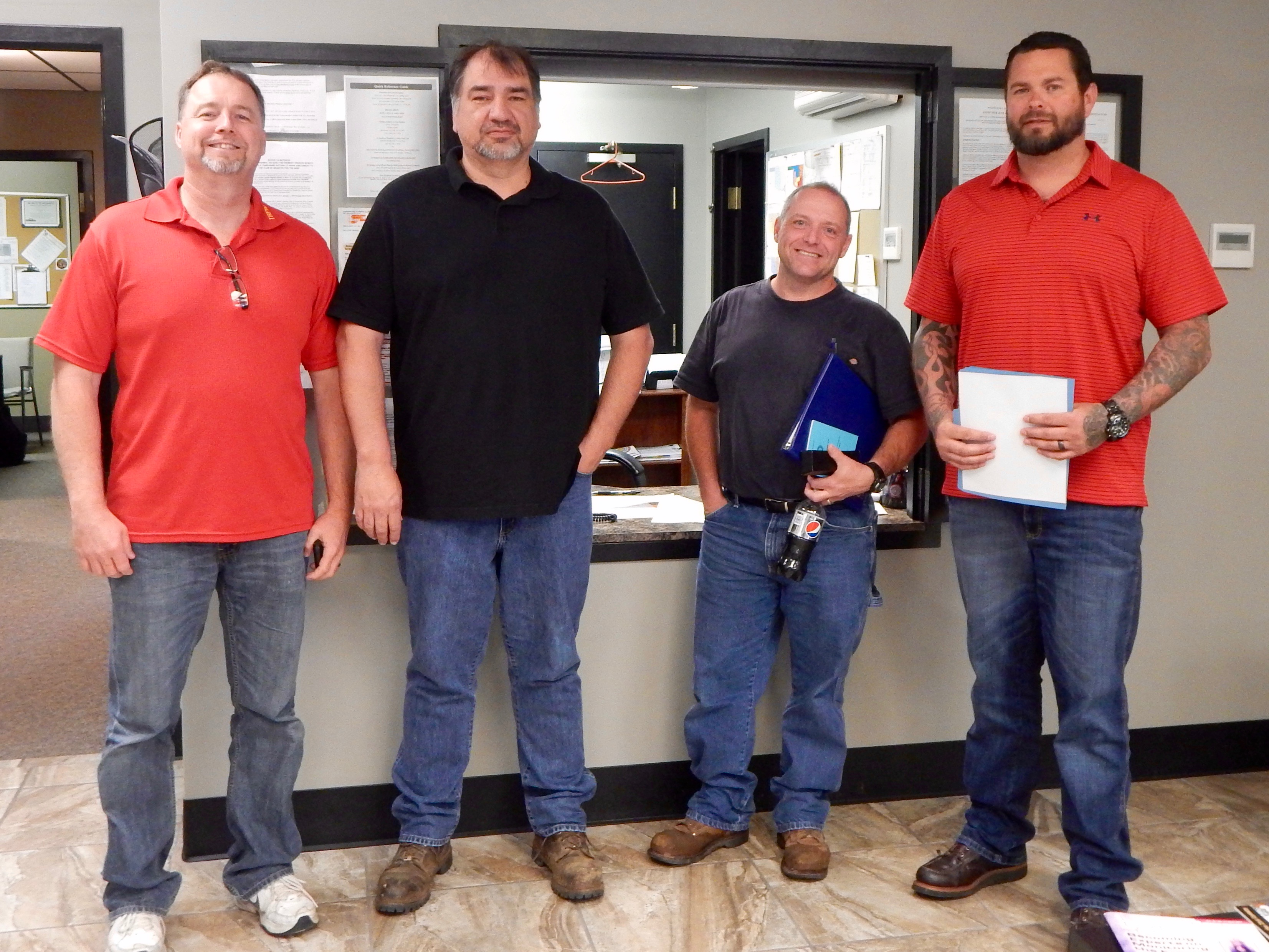 Tulsa World Profile: 'All aglow: Time-honored neon still resonates in advertising industry'
Claude Neon is one of our signatory contractors – check out this cool profile in the Monday April, 17 issue of the Tulsa World.
Photo used under a Creative Commons license from Flickr user Jonas Bengtsson.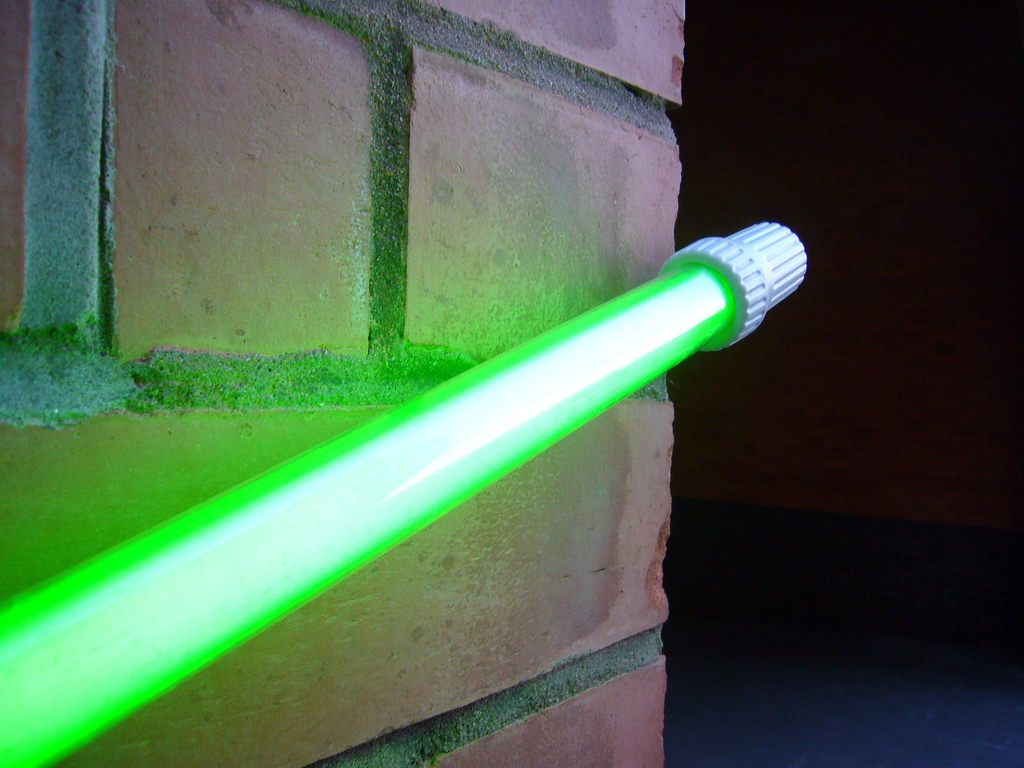 IBEW 584 Apprentice of the Year: JW License 'Something You Can Be Proud Of'
Fifth year Local 584 apprentice KJ Payton shares his story about how he joined the IBEW, and why – after years of doing less-secure, lower-paying work – he's excited to top out and move up the ladder of his new career.
Tulsa JATC Expansion Offers Increased Training Opportunities
Just a few months after the newly-remodeled Tulsa JATC opened its doors, apprentices and instructors are making use of added technologies, hands-on training modules, and an improved classroom experience.
IBEW 584 Brothers Receive Service Pins
At our Christmas party on Dec. 10, we were happy to award service pins to several outstanding Brothers who demonstrate the best our Union has to offer on the jobsite and in the community.
Pictured left to right: Don Andrews, 40 years of service; Jack Anderson, 40 years of service; Tom Emmons, 10 years of service; John Bell, 40 years of service; Roger Canada, 45 years of service; Paul Hudson, 50 years of service; James Dillard, 15 years of service; Kris Gomez, 15 years of service; and Rik Pitts, 20 years of service.
If you see any of these Brothers on the job, around the Hall, or at Union events, please offer them a well-deserved "congratulations" for a job well-done.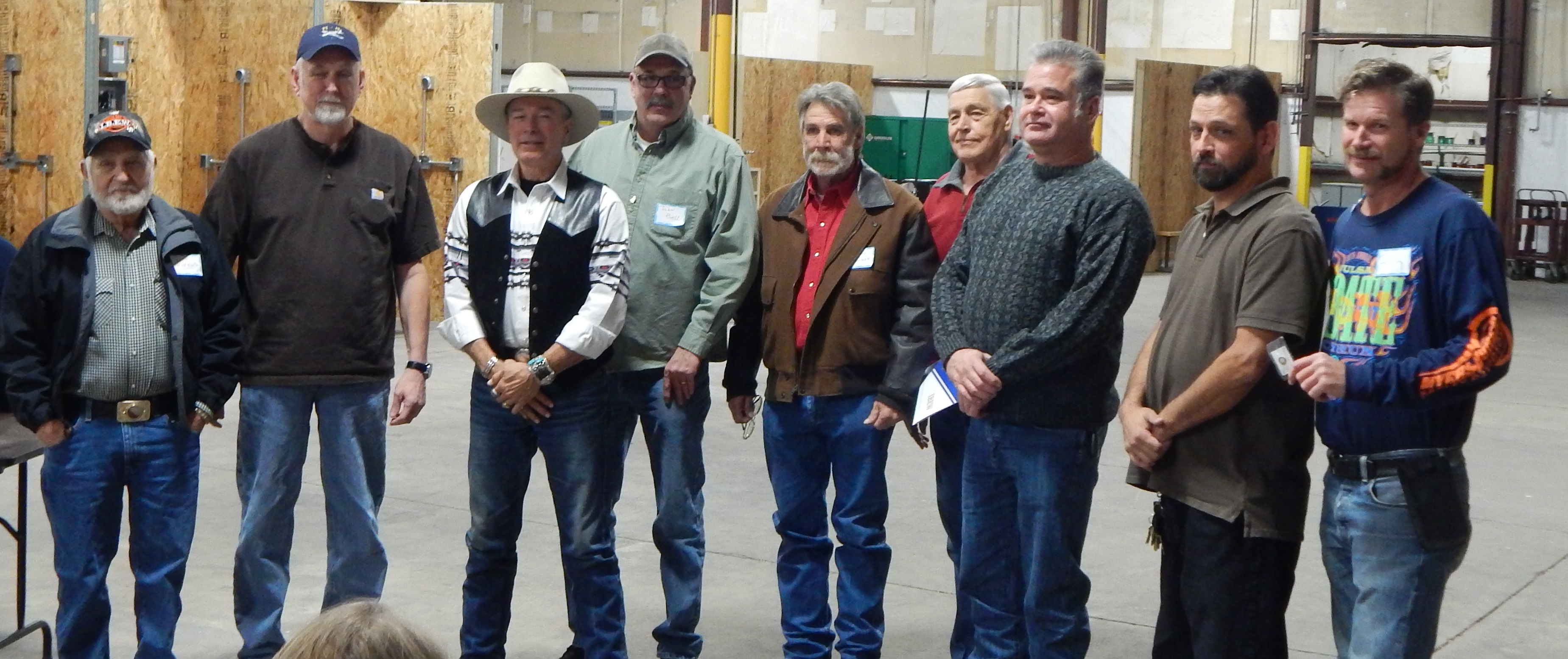 IBEW 584 Brother Andrew Shubin: Unions Key to Good Economy
Wages. Right-to-work. Engaging more workers. All of these issues matter to IBEW members in Oklahoma.
At the recent Young Workers Conference in Stillwater, Local 584 Brother Andrew Shubin talked about his experiences in a non-RTW state vs. Oklahoma, and why he thinks conferences like these can help inspire more Brothers and Sisters to mobilize for the middle class.
Tulsa IBEW Powers Up New Costco Project
IBEW Local 584 electricians built south Tulsa's new Costco. It was the first retail job of its kind for the local in many years.
New Grant Helps IBEW Apprentices with Costs
At $22 per hour in wages and benefits, IBEW apprentices find themselves in solid financial shape at the end of their first year. And while there is an initial cost for tools and books, Local 584 has found a way to help members with these out-of-pocket expenses while they start their new careers in the trade.
Want To See More?
Please visit our popular YouTube page to see even more reporting by clicking here.
Page Last Updated: Dec 13, 2017 (06:19:21)